The file you are trying to view is either offline or corrupted.
The "couldn't preview file" is a message that can be seen when trying to open a file. The cause of this issue is usually due to the file being too large to preview.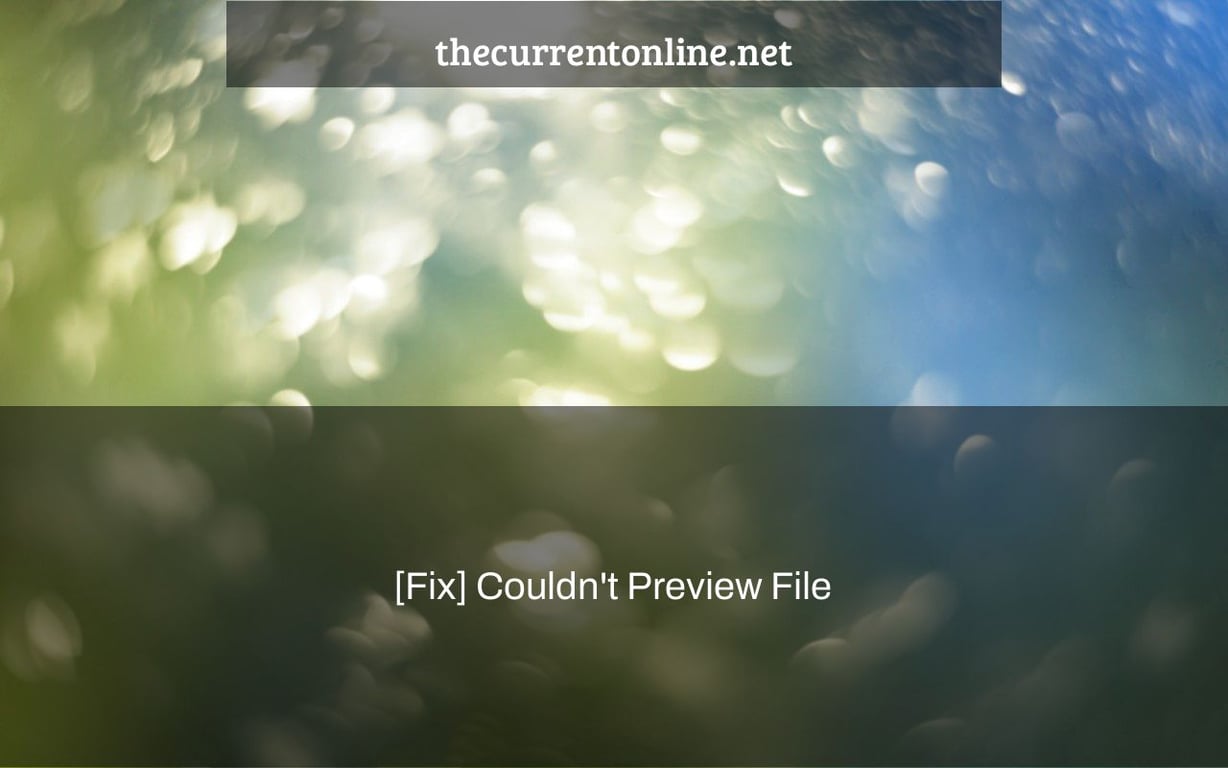 Have you ever seen the statement "couldn't preview file because there was an issue playing this video"? If that's the case, you're not alone. But don't panic; there are several solutions to this aggravating condition.
Google Drive is a cloud-based file storage service that enables you to store files online and access them from any computer, smartphone, or tablet.
Google Drive has grown in popularity as a result of its feature-rich services and functionalities. Previewing files is one of Google Drive's most popular features.
You may see documents without having to open them or convert them to Google's common office formats, such as Google Docs, Google Sheets, and Google Slides, using the Preview tool. This option is accessible for the majority of papers.
However, for different reasons, the video may not play, resulting in the message "Couldn't Preview File — there was a problem playing this video."
So, in today's post, I'll explain why Google Drive videos aren't playing and how to repair the issue "Couldn't Preview File – There Was A Problem Playing This Video."
Let's get started without further ado!
Also see: How to Delete Photos from iCloud Permanently.
Why won't my Google Drive videos play?
To repair the Google Drive video not playing problem, you'll need to figure out what's causing it. We are unable to analyze the underlying cause of the problem due to the error message's lack of specificity.
Google Drive just shows the same error notice if the video play request is not finished. Some of the reasons or causes for video play request failure are listed below.
Google adjusts its settings on a regular basis to keep up with market demands. The earlier version of the browser may not have all of the functionalities necessary to play the video after an upgrade. You need upgrade your browser as a result.
Unpopular Video Formats: Google Drive does not support video formats that are older or less popular. Google Drive will not play incompatible files.
Plug-ins: Incompatible extensions or add-ons are often the cause of the issue. Check that none of the features of a newly installed plug-in are interfering with the video.
Poor Internet Speed: If your internet connection is poor, you may get this error. Playing cloud storage films on Google Drive necessitates a reliable and high-speed Internet connection. Videos on Google Drive will not play if the Internet is sluggish or varies.
Higher Video Resolution: Google Drive supports a maximum video resolution of 1920*1080p. Video with a higher resolution will not play.
Bulky RAM: When you play a movie from Google Drive, your device produces temporary files. If you have a lot of RAM, the video may not play.
Router Security Configuration: Newer routers include internet limiters and security protocols. Large or non-scannable files may be prevented from being opened by these characteristics.
How Do I Fix "Couldn't Preview File – There Was An Issue Playing This Video" Error?
To solve this issue, you'll need to figure out why Google Drive won't play videos. The following are some viable options for resolving the issue of Google Drive videos not previewing.
Examine Your Internet Connection
If you are unable to play your Google Drive movies, you must first verify your internet connection using an online speed tester. If your internet connection is stable, go to the next step. If speed is a concern, you may go to the next stage.
Reset the modem and router if necessary. Turn off the computer for a few moments, then turn it back on. You may also revert to the factory defaults.
Make that your modem, router, and PC are all connected using a network cable. If these don't work, you should contact your network operator. The movie will start playing after you reach the proper speed. If it doesn't work, go on to the next step in the troubleshooting process.
Please update your browser.
Websites are altering the way they are created in the same way that browsers are becoming more secure. When your browser is obsolete and the site has been upgraded to new standards, it might be difficult to load the site.
As a consequence, it's critical to keep your browser up to date. To do so, do the following steps:
In Chrome, go to the three dots and click Settings.
Select About Chrome from the sidebar menu to update the browser.
After that, reboot your smartphone.
After you've performed these steps, you may attempt to play your Google Drive videos. If the problem persists, go to the next step.
All Plug-Ins Should Be Disabled
To attempt to address the Google Drive videos not playing, you may also deactivate all plug-ins in Chrome. To do so, follow these steps:
Click the three dots in the upper right corner, then More Tools, then Extensions.
Toggle the switch to the off position for each extension you see.
Restart Google Chrome after that.
If this remedy does not work, you may try the next one.
Clear Your Browser's Cache And Cookies
Cookies and caches are used by all browsers to speed up the loading of online pages. These caches and cookies, on the other hand, might overload your browser if they aren't removed on a regular basis.
To clear cookies and caches, follow these steps:
Go to Chrome and click on the three dots in the top right corner, then Settings.
Then, from the sidebar menu, choose Clear browsing data under Privacy and Security.
In the resulting dialog box, choose Cached Images and Files, and then click Clear data.
Now attempt to play the video to check whether the problem has been repaired. Otherwise, go on to the next choice.
Transform the videos
To fix such an issue, you may convert a video file format. You can do so using an online tool, but the benefits of utilizing offline software such as VLC player are better.
Follow these procedures to convert your video files using VLC:
Launch VLC first, then open the Files folder.
Then, open the various files.
Upload the video files that need to be converted by clicking the 'Add' button.
Then, next to Play, press the drop-down menu.
then choose Convert from the drop-down menu.
The VLC player will now ask for the video file's location and output format.
Finally, press the Start button. VLC will start transcoding right now.
Play your video in incognito mode.
Browser extensions may sometimes cause native video playing in Drive to fail. This problem may be solved by opening the file in "incognito" or "private" mode, which is accessible in practically all current browsers.
This option disables all extensions, ensuring that no add-ons create problems.
Video with a Higher Resolution
Google Drive, as previously stated, does not accept video resolutions more than 1920 x 1080. A video with a higher quality, such as 4K, will not show up in the Google Drive preview.
You may, however, download the video file and view it later without any problems.
Take a look at the video file size.
Due to a big video file, you may experience various problems or video-related difficulties. To address the problem of movies not playing on Google Drive, make sure the video file size on Google Drive is at least 5 TB.
Please double-check that you used the correct video file size.
Check out this shady video.
Any cloud platform or offline player will not be able to play a video that has already been corrupted.
Videos may become damaged in Google Drive for a number of reasons, including poor video compression, virus or spyware attacks, or wrong user account settings.
The natural option would be to utilize video restoration software to rectify the corruption as soon as you see it.
Disable Hardware Acceleration if you don't want to use it.
This issue might be caused by hardware acceleration. You can turn off the acceleration software if this occurs. To deactivate hardware acceleration, follow these steps:
Select Settings from the three-dot symbol in the top-right corner of Chrome.
Scroll down to see the Advanced options.
Locate the System section next. Toggle off Use hardware acceleration when available by checking the box next to it.
Restart your browser now.
Conclusion
The error "Couldn't Preview File – There Was A Problem Playing This Video" was described above. And I hope you'll be able to use one of the techniques.
If none of the previous approaches work, switch to a different browser. Your current browser version may include issues, so try upgrading it to see if it fixes the playing issue on Google Drive.
If you have any questions or recommendations, please leave them in the comments section.
Thank you for taking the time to read this!
Also see: How to Fix the Google Drive Error "Download Quota Exceeded for This File"
Watch This Video-
The "Couldn't preview file" is a common error that can happen when you try to open an image or other type of file. This error will be displayed if the user has limited connectivity or is offline. Reference: couldn't preview file you may be offline or with limited connectivity.
Frequently Asked Questions
Why does it say unable to preview file?
A: The file you are trying to preview is in a format that our software can not detect.
Could not preview file there was a problem displaying this image?
A: I am sorry, but this was not a music file. Please try again later.
Why cant I preview files on Gmail?
A: This is because Gmail does not allow you to preview files in bulk. If they were, the loading time would be slowed down significantly and that might cause poor performance when trying to send emails or download attachments at a high speed.
Related Tags
couldn't preview file you may be offline
couldn't preview file there was a problem playing this video
google drive couldn't preview file pdf
google drive couldn't preview file there was a problem playing this video
gmail couldn't preview file you may be offline